Timeline Slicers are a new addition to Excel 2013. They are a new filter tool that is available exclusively to the date fields in your PivotTables. They are visually appealing and easy to use.
To use a Timeline with your PivotTable;

Click anywhere inside your PivotTable.
Click the Analyze tab on the Ribbon under PivotTable Tools and then click the Insert Timeline button from the Filter group (Timeline can also be found on the Insert tab. Expect to see further use for it in future versions of Excel).
The Insert Timelines dialog box appears. Select the date fields that you want to use by checking the boxes and clicking Ok.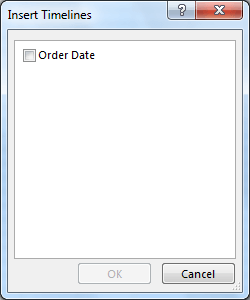 The Timelines Slicer is inserted. Use it by clicking on the timeframe that you want to view. You can also click and drag the ends of the selection to expand the date range visible in the PivotTable.
You can change the time period being used by the Timeline by clicking on the Time Level list in the top right corner and choosing a different time period.

Got more than one PivotTable? Click the Report Connections button on the Options tab on the Ribbon under Timeline Tools.
Check the boxes for the reports that you want your slicer to be able to filter.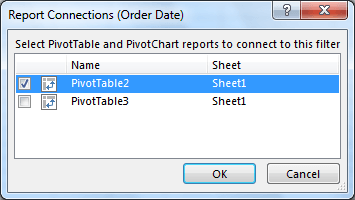 Timeline Slicers are a great new feature to Excel 2013. They make filtering PivotTable data by a date ranges easier, more fun and far more appealing than past versions of Excel offered.
Watch the Video