This tutorial will take you through the new Power Query custom data types in Excel.
What does this all mean?
Well, you can now create your own data types in Power Query similar to the ones you see on the Data tab (Stocks, Geography, etc).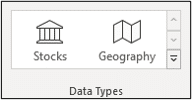 These rich data types allow us to store many columns of data in just one column. This frees up space on the worksheet.
All columns of data are easily accessible using formulas or by simply typing the column name.
In this tutorial, you will see how to create Power Query data types and how to access their data with formulas.
[Read more…]

about Power Query Custom Data Types