The Excel WORKDAY function returns the date a specified number of workings days before or after a date. WORKDAY excludes weekends and dates recognised as a holiday.
This function can be especially useful when performing calculations on workdays such as calculating a delivery date or the number of working days.
The syntax for the WORKDAY function is:
=WORKDAY(start_date, days, [holidays])
| Argument | Purpose |
| --- | --- |
| Start_date | The start date |
| Days | The number of working days from the start date. A positive number produces a future date, and a negative number produces a past date |
| Holidays | An optional list of dates to exclude from normal working days. This is usually entered as a range of cells |
The examples below demonstrate the WORKDAY function being used to calculate the delivery deadline for orders received by a company called Toy Town.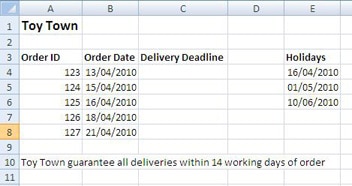 | Function | Result |
| --- | --- |
| =WORKDAY(B4,14) | 03/05/2010 |
| =WORKDAY(B4,14,E4:E6) | 04/05/2010 |