When using Track Changes in Word, balloons are used to mark formatting changes and comments. Balloons seem to have a mixed appeal and many people prefer the use of the inline mark up, or the Reviewing Pane.
Balloons appear on the right in what is known as the Markup Area by default.


However, these settings can be changed so that the balloons can be switched off, or modified to appear elsewhere.
Turn Off Balloons in Track Changes
Click the Review tab on the Ribbon
Click the Balloons button in the Tracking group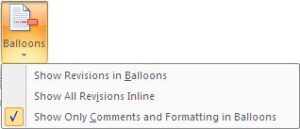 Select Show All Revisions Inline from the list
It is also possible to show all revisions using balloons if you are a fan.
Modify the Balloon Settings
If you decide to use balloons for tracking, you may want to modify some of the settings. These include to show balloons on the right or left of the page, change the width of the Markup Area (set to 6.5 cm by default), and whether you want to show a connecting line to the changed text.
Click the list arrow on the Track Changes button in the Review tab of the Ribbon
Select Change Tracking Options from the menu

Change the required settings and click Ok
Track Changes settings can be customised to suit the way you like to operate. Working with the balloon settings is just one area of that.