When you spell check your Word documents, there are bound to be some words that you have used which Word incorrectly identifies as a spelling mistake.
Instead of just telling Word to ignore these words, you can go one step further and add them to your custom dictionary.
The custom dictionary is a built in dictionary for you to store words that you use often, and are being incorrectly identified as spelling mistakes. Common examples include the names of people, companies and locations.

Adding a Word to the Custom Dictionary
To add an entry to the custom dictionary, right mouse click on the word and click Add to Dictionary.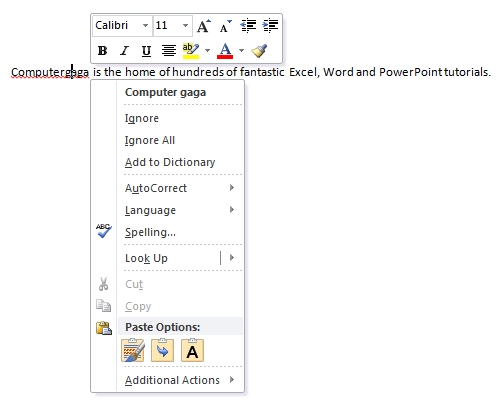 The word is added to the in-built custom dictionary. MS Word will in the future now recognise it as a correctly spelt word.
Editing the Custom Dictionary
At some point words may be added by mistake, or are no longer used and therefore unnecessary. Fortunately you can edit the custom dictionary to remove them.
Click the File tab on the Ribbon and click Options.
Select the Proofing category from the left.
Click the Custom Dictionaries button.
It is possible to have more than one dictionary, so select the custom dictionary you want to edit (if necessary) and click the Edit Word List button.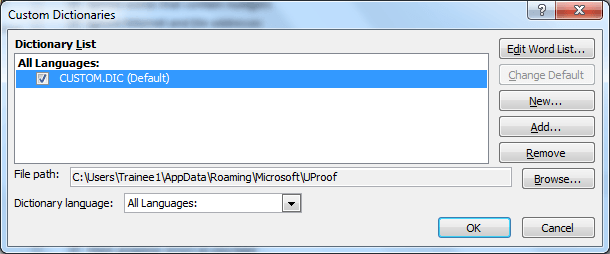 Select the word you want to remove and click the Delete button below the list. You can also add new words manually from this dialog box.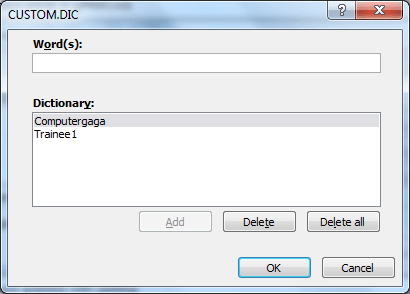 The custom dictionary is a great tool for improving your spell checking in Word. It will save you time and improve your documents accuracy. If you are an Outlook user this will improve your work there too as Outlook uses for Word for writing emails.
Keep an eye on it though as it may need editing from time to time to work efficiently.
Watch the Video