If you are storing pictures in a list in Excel, then you need to make sure that you can sort the pictures in the list. Unless a few steps are taken in advance you will not be able to sort pictures in Excel.
Imagine you have a list of products and you have a picture of that product in one of the columns. When you sort the list by product name, price, or number sold you will want the pictures to move with the appropriate product.
There are two things you need to ensure are setup before this can happen;
The picture is completely encased within the cell like in the image below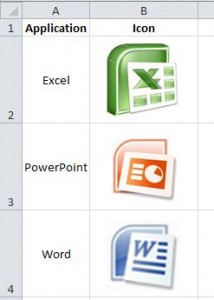 If the picture overlaps any of the cell borders at all then the sorting will not work. Resize the width and height of each cell as necessary
The Move but don't size with cells setting must be on in the picture properties
Set the Picture to Move with Cells
The following instructions and images are based on using Excel 2010. A similar procedure can be followed for Excel 97-2003 and for 2007.
Select the picture you want to format
Click the Format tab under Picture Tools on the Ribbon
Click the Dialogue Box Launcher arrow in the corner of the Size group on the far right of the Ribbon

Select the Properties category in the dialogue box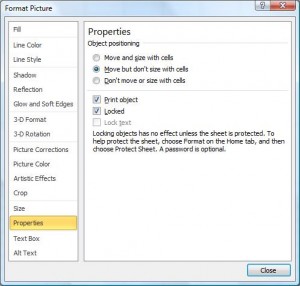 Ensure that the Move but don't size with cells option is selected
Click Close
The picture properties dialogue box can also be opened by right-clicking on the picture and selecting Properties in most versions of Excel.