It is very easy to see two presentations at the same time in PowerPoint. This can be useful to compare the two presentations.
It may be that you need to compare last years presentation to this years, or to check a colleagues version against yours. Whatever the reason, fortunately, there is a feature to view the presentations side by side on screen at the same time.
See Two Presentations Side By Side
Open the two presentations that you want to compare
Click on the View tab of the Ribbon
Click the Arrange All button in the Window group. The presentations are arranged side by side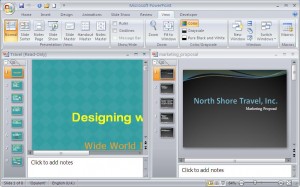 The instructions above are the steps for PowerPoint 2007 and 2010. In PowerPoint 2003, click the Window menu and select Arrange All.