I got a question yesterday asking how to play a movie and music at the same time in a PowerPoint slide show. This was used to play a funny song whilst a home video was playing.
To do this you need to insert the movie and the music file and then modify the animation to play the together.
Insert the Movie
Click the Insert tab on the Ribbon
Click the Movie button and select Movie from File
Locate and select the video you want to play and click Ok
PowerPoint prompts as to when you want the movie to begin playing. Select Automatically to have the movie begin when the slide starts, or When Clicked to control when the movie begins by the click of a button

Click the Slide Show Volume button on the Movie Tools Options tab and select Mute. This will ensure that any sound from the movie does not interfere with the sound from the music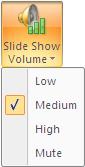 Insert the Music
Click the Sound button on the Insert tab of the Ribbon and select Sound from File
Locate and select the music file you want to play and click Ok
Select Automatically when prompted
Check the Hide During Show checkbox on the Sound Tools Options tab to hide the speaker icon during the slide show. This is so that it does not obscure the video being played

Play the Movie and Music at the Same Time
Click the Animations tab of the Ribbon
Click the Custom Animation button
Select the animation that controls the start of the music from the Custom Animation task pane. Click the Start: list arrow and select With Previous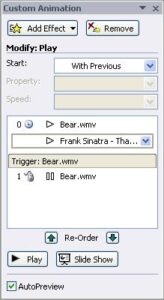 The music will now play at the same time as the movie is playing. This can happen automatically on the start of the slide or when clicked during a presentation. That is controlled by the movie animation.