Outline tasks in Microsoft Project to organise your list of project tasks and make it more readable. Creating an outline requires indenting tasks. The indented tasks are known as subtasks and the task above them a summary task.
These groups of tasks can then be collapsed and expanded making the list of tasks easier to work with.
There are many approaches to organising the tasks in your project. You may decide to group tasks by the phases of the project, the teams who will be doing the work, or in the case of manufacturing a product the different parts that make up the product.
As well as making the list more readable and easier to use, the summary tasks also provide project data at a glance. Information such as the start and finish date of that project phase, its duration, cost and variance is made easily available.
Create an Outline of Project Tasks
Indent and outdent the tasks in your project to create an outline of summary and subtasks.
From the Gantt Chart view, select the tasks that you want to indent to become subtasks
Click the Indent button to indent the task, making it a subtask. The Outdent button can also be used to create summary tasks

You can indent and outdent tasks many times to get the outline you require. The summary tasks appear in bold with the subtasks indented beneath them.
The minus signs next to the summary tasks enable you to collapse the group of tasks. A plus sign will then appear making it possible to expand the list again.

In Project 2010 the Indent Task and Outdent Task buttons can be found in the Schedule group of the Task tab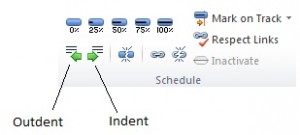 Show the Project Summary Task
The project summary task provides high level information about the project as a whole. This task is not created by indenting other tasks. It already exists and just needs to be made visible.
Click the Tools menu and then Options
Click the View tab in the Options dialogue box
Check the Show project summary task box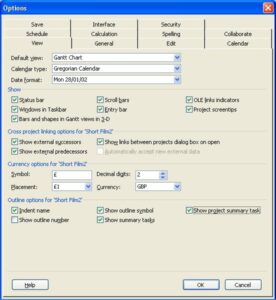 Click the Ok button
The project summary task appears. Click in the Task Name field and enter a project summary task name.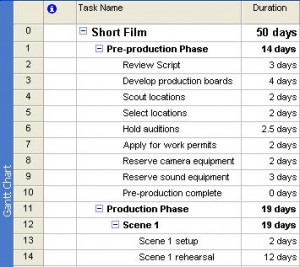 Show the Project Summary Task in Project 2010
Click the Format tab under Gantt Chart Tools on the Ribbon
Check the Project Summary Task box in the Show/Hide group