I was reading the Metro newspaper home from work a couple of days ago and I noticed that they had used a drop cap letter in the first paragraph of a story. I had never noticed them use this before. This inspired me to create a tutorial on how to insert a drop cap in Word.
Inserting a drop cap makes the first letter of a sentence larger than the rest. The first letter typically spans 3 lines of a paragraph.

This technique is used in manuscript and novels written in beautiful calligraphy. You can try and create a similar effect in Word by formatting the font.
It is simple to insert a drop cap in Word and there are options to customise the drop cap character.
Insert a Drop Cap in Word
Click in the paragraph that you want to insert the drop cap to
Click the Insert tab on the Ribbon
Click the Drop Cap button in the Text group and select either Dropped or In margin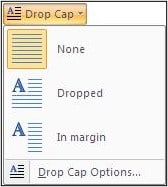 The drop cap appears in the paragraph. You can click the Drop Cap button again to change the type used if you wish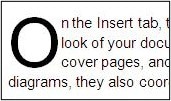 Change the Drop Cap Options
You can change the drop cap options at any time such as increasing the distance between the drop cap letter and the rest of the paragraph, or changing the font.
Click the Drop Cap button and select Drop Cap Options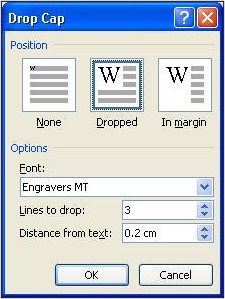 Change the desired settings in the dialogue box and click Ok.