PowerPoint contains an in-built feature for you to import slides from another presentation. This is very useful as quite often you need to reuse a slide that already exists on another presentation.
To do this;
Select the slide in the presentation before where you would like the inserted slide(s) to appear
Click the Home tab of the Ribbon
Click the New Slide drop down arrow and select Reuse Slides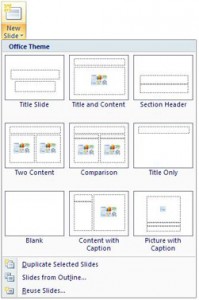 The Reuse Slides task pane appears. Click the Browse button and select Browse File
Locate and select the presentation that contains the slide(s) you need and click Open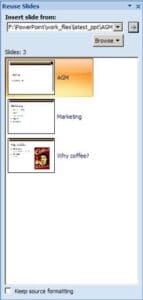 Click on the slide(s) to insert it.
This feature has its advantages over copy and paste techniques. It is more simple as you do not have to open other windows, and it allows you to keep or remove the source formatting.
By default, the slides you insert will adopt the formatting of the master slide in your current presentation. However you can check the Keep source formatting button at the bottom of the Reuse Slides task pane to keep the formatting of the other presentation.
Show Me