Have you ever been using Word and wondered where your top and bottoms margins have disappeared to. If so, this sounds like you are in Print Layout view and have the white space between the pages hidden.
I got a phone call from a lady the other day worried because she could not see the content of her header. She feared that it had mistakenly been deleted. Someone previous to her had hidden the white space and this was causing her no end of worry.
Fortunately, this is easily solved.
Click the Office button and select Word Options
Select the Display category from the left
Check the box labelled Show white space between the pages in Print Layout view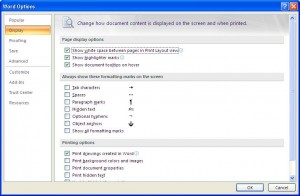 Click Ok
There is a shortcut for this too. Double click on the top edge of the page to quickly hide or show the white space of a page.