If you are sharing a PowerPoint presentation with others, you may decide to embed fonts in the PowerPoint file. This will ensure that others can use those fonts, even if they are not installed on their machine.
If you have used a custom font that another user does not have, it will be replaced by the default font on their machine. The presentation will then have an inconsistent look to it.
Be aware that embedding fonts in a PowerPoint file will increase its file size. However this is typically a small price to pay for a consistent and reliable presentation.
To embed fonts in PowerPoint presentations;
Click the File tab and then Options.
Click the Save category down the left.
Check the Embed fonts in the file box at the bottom of the Options dialog.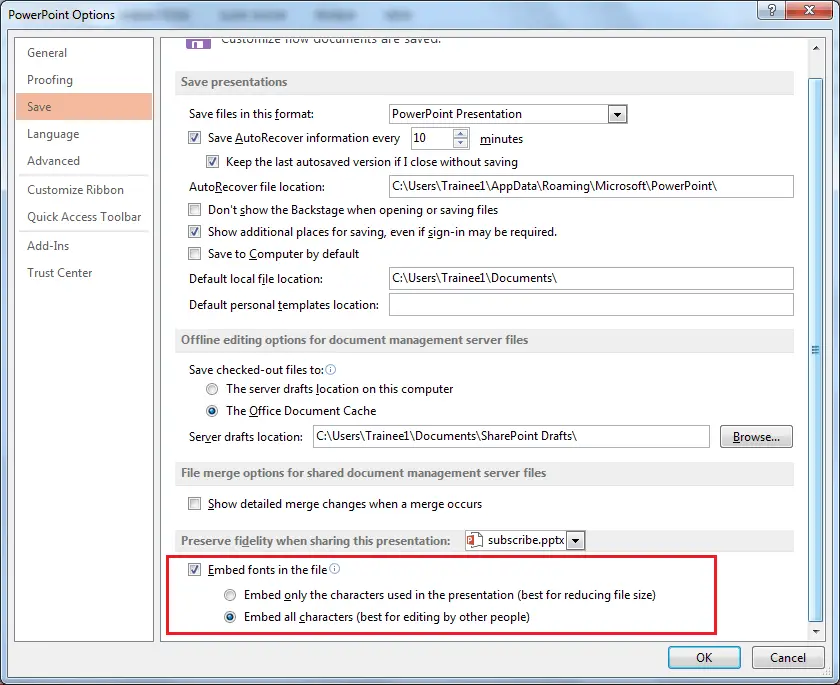 Ensure the Embed only the characters used in this presentation option is checked if the other users of the file will just be viewing it. However if others are expected to make modifications to the file, ensure the Embed all characters option is selected. Click Ok.
Save the presentation. It may take a while for PowerPoint to embed your fonts. You can press Esc to cancel at any time and the progress is display on the Status Bar at the bottom of the screen.

Watch the Video – Embed Fonts in PowerPoint