Visio 2010 makes it even easier to create drawings, and one of the main reasons for this is the improvements to the Dynamic Grid.
The Dynamic Grid assists you with the sizing, aligning and spacing of shapes in relation to one another. It is an extremely useful tool, and one that takes arranging shapes to another level of simplicity.
The dynamic grid was introduced with Visio 2007 and then enhanced further in the 2010 version. As you size or move a shape on the page, arrows and lines will appear to assist you with the shapes alignment and spacing.
The image below shows its use in Visio 2007. The dotted lines indicating that the rectangle shape being moved is centrally aligned with the two other shapes on the page.

The image below shows the dynamic grid in Visio 2010. The lines are red and solid making them clearer. And in addition it also informs you that the three shapes are equally distributed.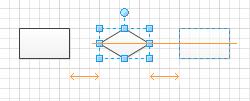 These examples are simple, but they do illustrate its power. Gone are the over reliance on the align and distribute commands in Visio. They are still available for use, but are rarely required.
The image below shows a more complex use of the dynamic grid. A position shape is being moved on an organisation chart. Arrows and lines appear to assist me with aligning and spacing it with the other position shapes.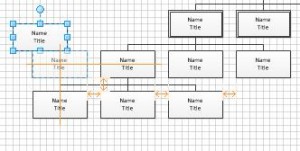 The dynamic grid is turned on by default in most drawings. It does depend on the template being used though. For example, it is not turned on by default in the organisation chart template. To turn it on:
Click on the View tab of the Ribbon
Check the Dynamic Grid box in the Visual Aids group