PowerPoint makes it easy for you to create new slide layouts in the Master Slide view of a presentation.
PowerPoint contains 9 different slide layouts which cover most situations. However the ability to create your own gives you the power to create unique PowerPoint templates that are built for purpose.
Many people use PowerPoint as a reporting tool and like to use charts to show the performance of the company, a product or a service. It may be that you want to create your own slide layout that incorporates two chart placeholders and a text box for bulleted points.
Click the View tab on the Ribbon and click the Slide Master button in the Presentation Views group
The Slide Master is displayed and the Slide Master tab selected. Click the Insert Layout button in the Edit Master group
A new slide layout appears at the bottom of the list. It already contains a Title placeholder as it is good practice to use one
Click the Insert Placeholder  button and select the placeholder you want from the list

Draw the placeholder onto the slide
Continue steps 4 and 5 until all the placeholders you want are added to the slide. Align, distribute and organise the boxes as needed so everything looks neat
Click the Close Master View button to return to Normal View
Click the drop down arrow for the New Slide button and your slide layout will appear in the list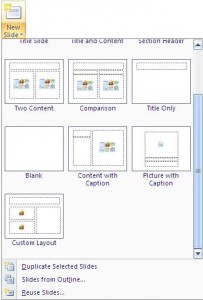 Check out this video to see how its done.