If you are working on a long document you may want to display each chapter heading in the relevant header. For example, to display chapter 1 in the header for pages 2 – 15 and then chapter 2 for pages 16 – 21 and so on.
You may have previously thought that this technique would require inserting multiple section breaks and using the Link to Previous option you get with Headers and Footers. This is how most training sessions and online tutorials approach this.
However, Microsoft Word contains a fantastic feature that will enable you automatically insert each chapter heading into the relevant page header. This also means that the header can be updated when content is moved or changed. And all without a single section break.
To do this you need to insert the StyleRef field into the page header.
Insert the StyleRef Field
Click the Insert tab on the Ribbon, Header and then Edit Header (Or double click in the top margin of a page)
Position the cursor in the header where you would like the chapter heading to appear
Click the Quick Parts button and choose Field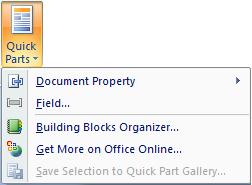 Scroll down the list of Field Names on the left and select StyleRef
Select the required heading style such as Heading 1 from the Style Name list in the middle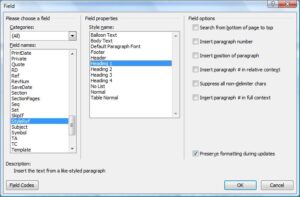 Click Ok
The chapter heading of that page will appear in the header. Check the other pages, the relevant chapter title should have appeared for each page.

This brilliant feature accomplishes a very popular Word task without the need for section breaks.