Are you looking to try and work faster in Microsoft Word. There are many great tools to improve productivity and save time in Word.
Check out these 5 top Microsoft Word tricks to save time and effort when working on your documents.
Add Words to the Custom Dictionary
When using Word, you are sure to use people and place names, acronyms and business terms that Word will identify as spelling mistakes.
Sure you can ignore these mistakes, but it would be better if you could add them to the dictionary so that Word no longer identifies them as spelling mistakes.
Word provides a custom dictionary for you to do just that. When spell checking a document, just click the Add to Dictionary button and you will no longer be prompted to correct it as a misspelling.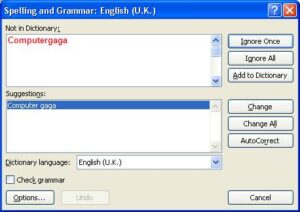 Insert Blocks of Content Quickly with Quick Parts or AutoText
The Quick Parts (Word 2007 and 2010) and AutoText (Word 2003 and previous) tools can be used to quickly insert blocks of content.
This content can be text, pictures, shapes, tables, almost anything. The ability to store and reuse a block of content quickly can greatly save time.
Shrink to Fit for Printing
Want to fit your print onto fewer pages for printing. Microsoft Word provides a Shrink to Fit feature which automatically shrinks the text and spacing in your document, to fit it onto one fewer page.
Open the document in Print Preview
Click the Shrink One Page button
The text and spacing of the document is reduced to print to one fewer page
Use the Format Painter to Copy Formatting
The Format Painter tool can be used to copy formatting, saving time and ensuring consistency in a document.
Apply Styles to a Document
Nothing can make a document easy to use as much as styles can. If you ever work with long documents, then learning to work with styles is a must.
Styles are a collection of formatting attributes that can be applied at the click of a button. They also provide structure to your document making using table of contents, cross references, hyperlinks and page navigation easy.
The ease of use of navigation alone is worth it. The brilliant Document Map tool comes alive when styles are used.