In this blog post we look at how you can use your own icon or image for the button of your macro on the Ribbon. This could be an image that you have created, or one that you downloaded from a website.
By using our own icons we can create customised workbooks and not be constrained by the standard Microsoft icon set provided.
In this example I have a macro that exports all the worksheets of a workbook to PDF, and I want to assign it to the icon shown below. This icon was downloaded from flaticon.com, a fantastic resource for icons that you can use for your macros.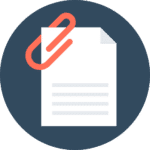 [Read more…] about Use Own Icon for Macro Button on Ribbon